If there is one thing we have learned over the past decade, it's that you've got to be flexible if you want to succeed in Link Advertising.
So, in the spirit of flexibility, we are making some big changes at BackLinks.com to enhance the system, secure our network, and get ready to launch a new, exclusive link network. Stay tuned!

[Last updated: 12/20/2013]

SEO Basics: Smarter, Safer, and More Effective SEO

Before we get into the updates, we wanted to remind you of a few SEO best practices…
Diversify your anchor text. Focus on your brand names (website URL, company name, etc.). Think about how people would link to your site in the real world.
Freshen up your onsite SEO. Make sure your keywords and variations of your keyword are on your page, without keyword stuffing.
Diversify your target URL's. Send links to your sub pages in addition to your home page.
Get involved in Social Media. Social signals can boost your authority with your visitors and the search engines.
---

System Updates:
"Nofollow" Option
Although "nofollow" links do little to help your rankings, they are an essential part of a natural looking link portfolio and are a good way to pause the link electricity for questionable links.
Nofollow links are good for:
Getting new pages indexed and pinged
Making your link portfolio look more natural
Expanding your internet presence within Google's guidelines
Cleaning up a questionable link profile if you aren't entirely sure which links to remove
How to Use the "Nofollow" Option: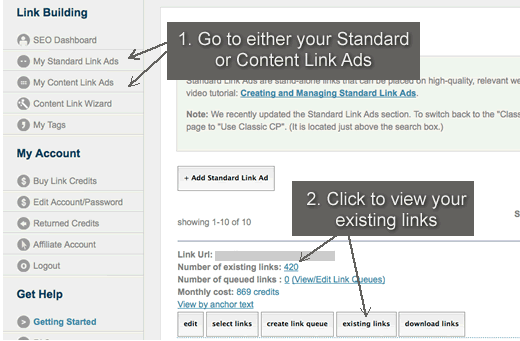 Then…


System Updates:
Language Filter
Links blend in better when the language of the anchor text matches the language of the page. So, we recently integrated language detection functionality to give you the option to specify the language of the pages on which you want your links
Filtering by Language:
You can specify the language when you add or edit a queue. Click the "Advanced Filters" link, and select your language.



Security Updates:
Link Display
Although we can't go into a ton of detail, we actually made quite a few security updates this week.
One update we can talk about is a change to the way links are displayed.Previously, we gave our publishers a lot of customization options to control the look and feel of the link blocks.
Now, we have stripped away all non-essential tags and customization options so the link code is nothing but an <a> tag with an optional "nofollow" tag.
Coming Soon:
Exclusive Network
For the past few months, we have been setting aside inventory to lay the foundation for a new, exclusive link network.
We have accelerated our timeline, and we look forward to introducing our new Exclusive Network much sooner than expected.
Exclusive Network Features
Fresh Inventory
Based on MOZ Domain Authority
Exclusive and Semi-Exclusive Options
"Like" us on Facebook > to get the latest updates on this new product!
Can't Wait for the New Network?

If you need premium links, but you can't wait for the new network,
check out viral content marketing from The HOTH >.
HOTH campaigns are a safer alternative to traditional links because they perfectly simulate the path of viral content.
https://nextnetmedia.com/wp-content/uploads/2010/12/BLUpdates-featuredImage.gif
77
101
Next Net Media
https://nextnetmedia.com/wp-content/uploads/2016/08/NextNet.png
Next Net Media
2013-12-20 17:31:21
2013-12-20 23:05:12
Big Changes at BackLinks.com